Full-Service Mechanical Repair and Diagnostic Service
When things go wrong with your vehicle, we'll make it right. You can depend on LAD'S AUTO and our certified team of technicians to expertly handle any and all mechanical work on your vehicle.
We use state-of-the-art diagnostic equipment to get to the bottom of any issues and work hard to recommend the best course of action (providing options where available). LAD'S provides full-transparency around all of our quotes and recommendations – and use only the highest quality products and NAPA AUTO parts. Our diverse team of technicians are trained to know your vehicle inside out, and to provide friendly service to match their expert knowledge.
A Guide to Common Repairs
Here are some of most common repairs that car owners face:
Alternator
The alternator generates electricity that runs your vehicle's computer, stereo, windows etc., and charges your battery while driving. A diagnostic test can identify any issues.
Axles
Axles transfer power from your engine to your wheels. They can wear or leak, which can cause wheels to lock up, damage the transmission or lead to an accident. Get any noises checked out.
Brakes
When you need your brakes, it is absolutely crucial that they work. LAD'S provides complete inspection and replacement service on both disc and drum brakes, and all associated parts.
Check Engine Light
When this light comes on, you should bring your car in for inspection ASAP. Your vehicle's computer has detected a problem with a key system. Ignoring it can lead to bigger problems.
Exhaust System
The exhaust system prevents emissions from harming occupants and the environment. If you hear noise around the tailpipe or smell exhaust inside, bring your vehicle in immediately.
Lights and Signals
Headlights, taillights, brake lights, turn signals, backup lights and marker lights allow you to see and be seen. Annual bulb inspection and cleaning of lenses can ensure maximum safety.
Shocks and Suspension
Shocks and struts work with the suspension system to ensure a smooth ride. All are essential to steering, stopping and stability. There are many parts, and a single issue can lead to trouble.
Tire Pressure Monitoring
Underinflated tires are a safety concern and can decrease fuel efficiency and tire life. Tire Pressure Monitoring Systems on new cars can advise a technician on required action.
Water Pump
The water pump circulates coolant through the engine, and can wear over time. If you hear a grinding sound or see a leak, bring your car in before it overheats.
Wheel Bearings
Hear clunks and groans when turning? It could be your bearings. Left unchecked, it could cause wheel lockup. We can re-grease and repack existing bearings or replace them if required.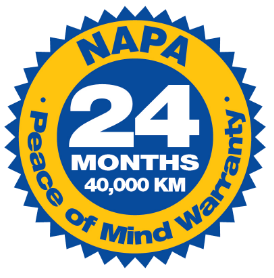 Peace of Mind Warranty
All of the repair services LAD'S AUTO performs are covered
for 24 months or 40,000 km (whatever comes first).
On all makes and models!
Learn more >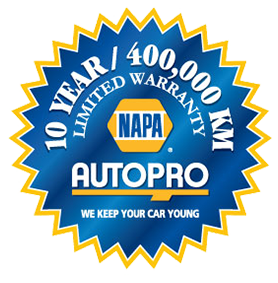 10/400 Warranty
This no-charge 10 year/400,000 km limited warranty covers the repair or replacement of critical engine components – including the transmission or transaxle.
Learn more >
We'll Never "Take You For a Ride." But We'll Give you one!
When your car is in for repair, LAD'S personal shuttle service drop off and pickup. Wherever you need. Whenever you need to get there.
Put Safety Before Cost. Financing Available on All Repairs.
Your decision to perform a repair should be guided by safety and not your ability to afford the repair cost. LAD's offers full financing so you can distribute payments over a longer period. This reduces the pressure that can come from having to pay a major expense all at once.
Contact us to Learn More
Request an Appointment
We'll find a time that works with your busy schedule.